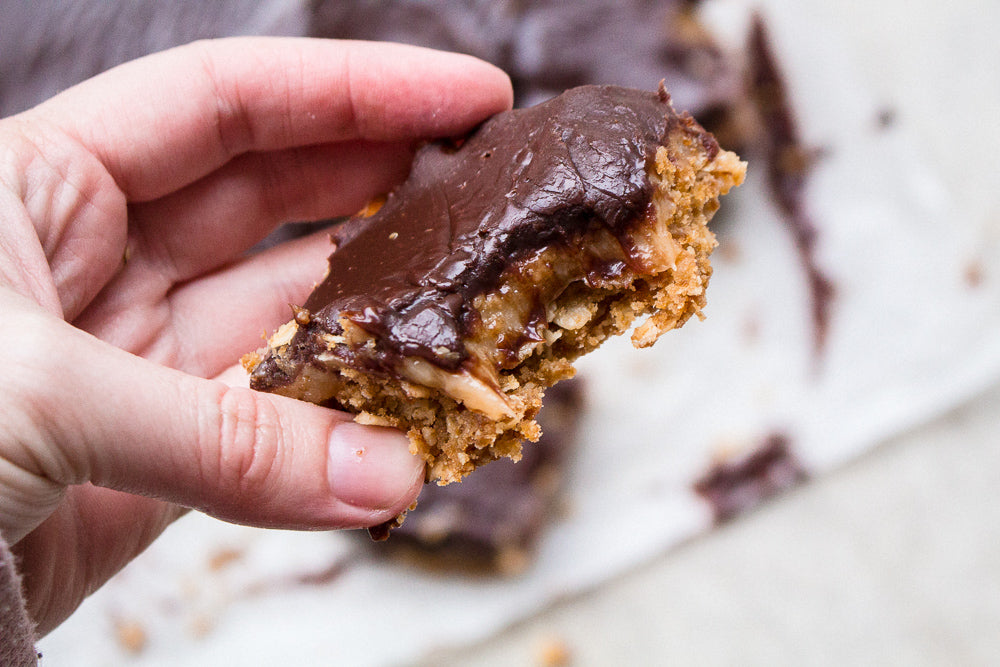 One of our most popular mixes! As we are changing our baking mixes to a new core range this one sadly is no longer a mix, BUT here is the amazing special recipe for you to make at home yourself!!
A delicious oaty caramel slice that will have you drooling! The chocolate topping finishes the slice off perfectly. You can make this and store in the fridge for a week or more.
INGREDIENTS
BASE
150g Butter or coconut oil
½ cup coconut sugar or rapadura
1 cup wholegrain oats
½ cup rice flour
½ cup brown rice flour
¼ cup coconut
1 tbsp ground flaxseed
1 tsp baking powder
1/4 cup Rice syrup or maple syrup or honey
CARAMEL
3/4 cup cream or coconut cream
1 ½ cups coconut or rapadura sugar
50g coconut oil or butter
1 tsp vanilla
CHOCOLATE
1/4 cup cream or coconut cream
1 cup dark chocolate chopped
Turn the oven onto 180 degrees
. Add the dry ingredients  into a bowl
Add in the butter and sweetener and mix until combined

Line a 20x20 baking tin with baking paper and press the mixture into the tin and place in oven for 10 minutes or until golden
Begin by making the caramel by placing the butter or coconut oil into a pot and melting. Add in the sugar, and vanilla and whisk together. Add in the cream and bring to a boil stirring well. Once boiling turn down the heat and simmer for 10 minutes or until it starts to thicken.


Pour the caramel over the base and place back in the oven for roughly 10 minutes or until the caramel has a golden top to it. It will bubble and thicken with time.
Remove from oven and leave to cool.

Add the cream to a pot and warm. Add in the dark chocolate and stir to combine. Pour over the slice and chill . Keep this slice chilled in the fridge