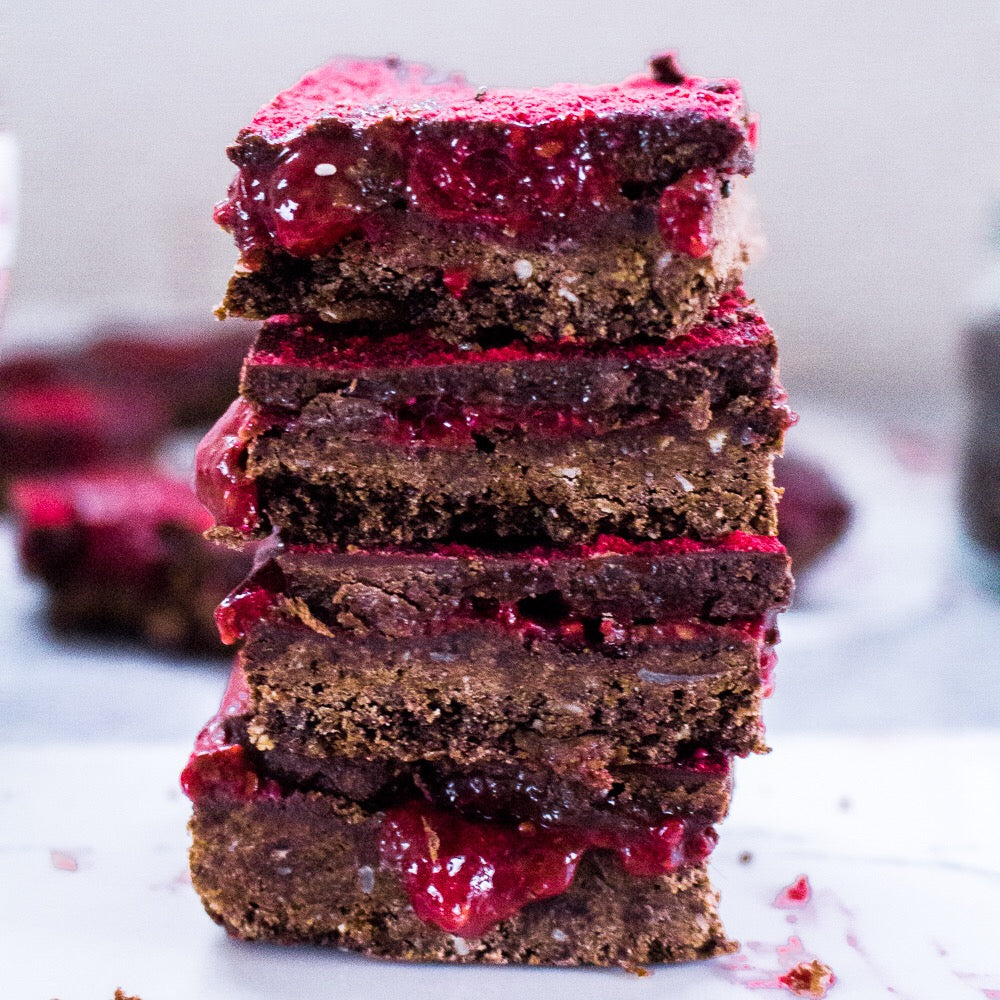 This delicious recipe is gluten free, refined sugar free and can be made dairy free. It's full of good healthy fats that help to balance hormones, give you healthy glowing skin, help with joint issues, balance your immune system and so much more. The amazing chia seeds are used to make a delicious jam and team amazing with a crunchy base and home made chocolate topping.
This recipe comes from my new wholesome eats ebook. For more delicious recipes like this click here 
Chia Jam recipe                    
1/4 cup chia seeds
2 cups frozen berries
1/4 cup maple syrup or any liquid sweetener
1-2 tbsp lemon juice
1 tsp vanilla
Place all the ingredients into a small pot

Stir until the berries have defrosted.
3.. Place the berry mixture into a blender and blitz for a few minutes until combined. 4. Place in a jar and pop in the fridge to set.
Slice
1 cup brown rice flour
½ cup ground almonds
¼ cup cocoa powder
⅓ cup coconut
1 tsp baking powder
½ cup rapadura               
150g melted butter or coconut oil 1 tsp vanilla
Raspberry chia jam
TOPPING
1/2 cup melted coconut oil or butter
1/2 cup liquid sweetener such as maple syrup
¼ cup carob powder
¼ cup cocoa powder
1 tsp raspberry powder
Turn the oven onto 180 degrees on bake
. Line a 20x25 baking tin with baking paper
Add the dry ingredients  into a bowl and add in the wet ingredients and mix well.
. Press into the tin and bake in the oven for 15-20 mins or until cooked. (this will firm up once cool)
. Once cool spread the chia jam over the base and place in the freezer. You want the jam to set so that you can pour your chocolate layer over the top.
. Make the chocolate by whisking together the melted coconut oil and sweetener with the cocoa and carob powder.  Pour over the top of the jam layer
. Sprinkle with the raspberry powder and return to the freezer until set
You can slice this and store in a container or freezer
Enjoy!