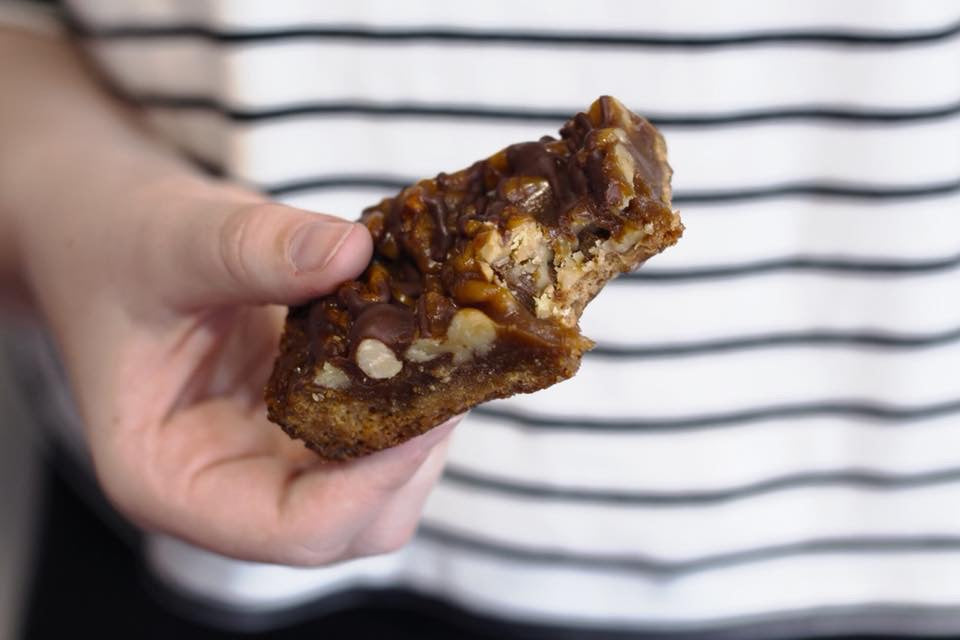 GLUTEN FREE TOFFEE & WALNUT SLICE 
Toffee is such a delicious flavour am I right?!
Have you tried taking gluten out of your diet to help with hormonal imbalances?! It can make such a difference!! 🙌
It can actually be easy and it doesn't have to be tricky! I have heaps of recipes in my new ebook to help get your started. 
This recipe also has ground sunflower seeds to help up the good fats and fibres essential for hormones! 
.
BASE
.
150g butter
.
¾ cup coconut sugar
.
¼ cup sunflower flour (ground sunflower seeds in blender)
.
¾ cup brown rice flour
.
¾ cup rice flour
.
1 tsp baking powder
.
CARAMEL Layer
.
50 g butter or coconut oil
.
½ cup rice syrup
.
½ cup honey
.
1 tsp vanilla
.
½ cup cream or coconut cream
.
½ cup chopped walnuts
.
½ cup chocolate chips optional .
To Make the Crust:
.
Preheat the oven to 180 degrees on bake Line a 20x20-cm baking pan with baking paper 
Melt the butter or coconut oil in a pot Add in the  coconut sugar, sunflower flour, brown rice flour, rice flour and baking powder 
Place the base into the oven and bake for 20-25 minutes until it
is golden.
To make the filling place the rice syrup, honey and coconut oil into a pot over medium heat. Bring it to the boil and boil for five minutes making sure it does not burn. 
Remove from the heat and stir in the cream, vanilla and walnuts.
Pour the toffee over the base and bake for a further 20-25 minutes until the toffee is bubbling all over. It won't be completely set, but the filling will firm up once it is cooled. enjoy!