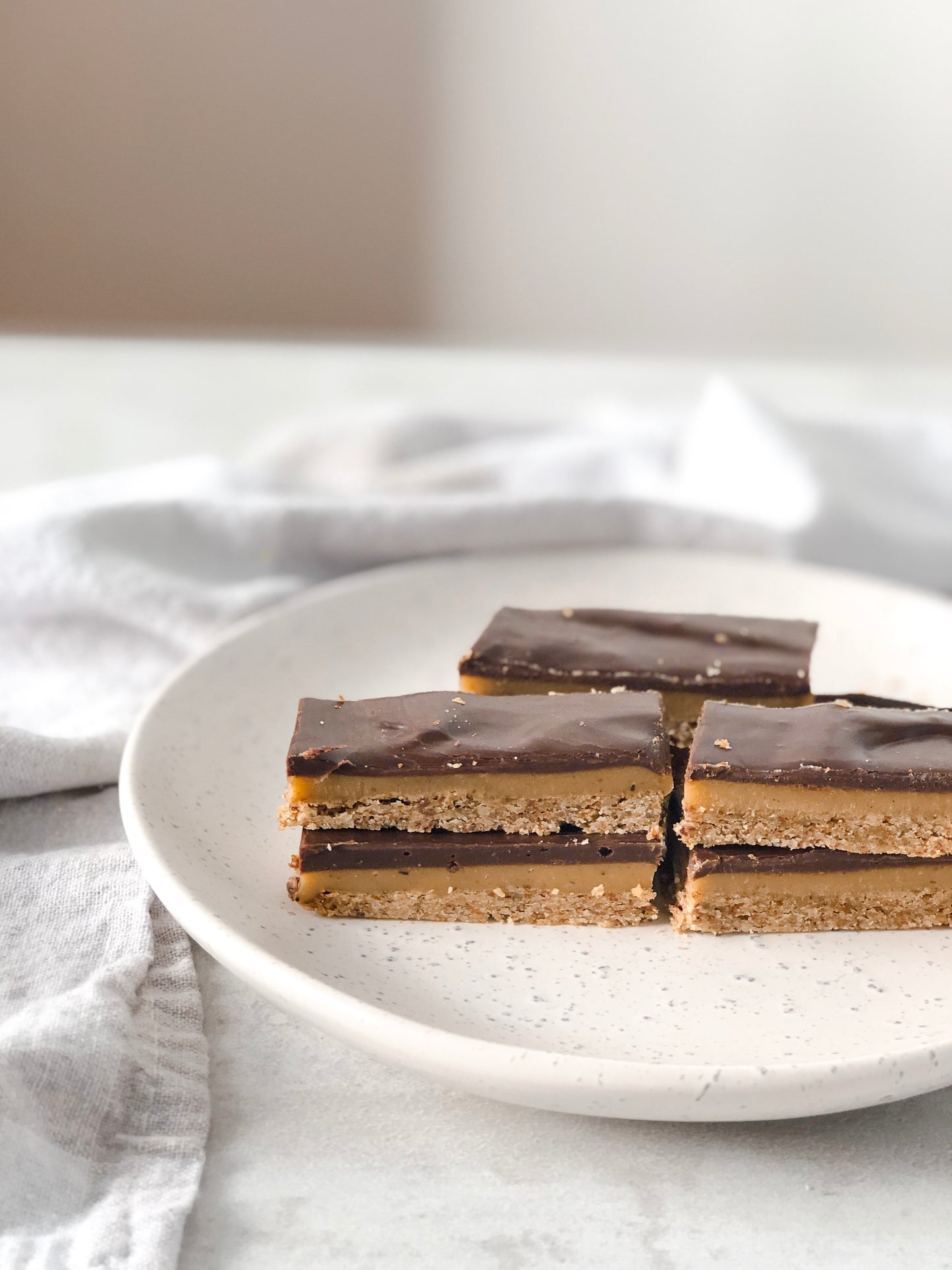 I have made many caramel slices in my time, raw, baked, sugar free etc. This version is my take on one that is more wholesome with extra fibre and fat but still tasty enough to be a treat. I reduced the amount of sugar in the caramel and none of my taste testers noticed!
So many women fight the urge to eat carbs and sugar but the thing is that we are fighting biology as we naturally crave carbohydrate heavy and sugar laden foods in our cycle. If we are trying to stick to healthy eating this can be even more difficult. It is working out when your body needs these and giving it in a form with more protein, fat and fibre to help keep your blood sugars more stabilised. 
Ingredients 
Base
1 cup ground almonds 
½ cup ground pumpkin seeds ( I grind mine in my blender) 
1 tbsp maple syrup 
100g melted butter or coconut oil 
1 tsp hemp oil (optional for extra fats)
2 tsp psyllium husk (optional for extra fibre)
Caramel 
⅓ cup maple syrup 
⅓ cup coconut sugar
50g butter or alternative 
1 cup cream or coconut cream plus extra ⅓ cup 
1 tsp vanilla extract or powder
1 tbsp almond butter
Pinch salt 
Chocolate 
100g Lindt 70% chocolate 
Instructions: 
Turn the oven onto 180 degrees on bake 
Place the base ingredients into a bowl and mix until combined 
Press into a lined 20x20 tin - this will be very thin, if you want a thicker slice use a smaller baking tray
Place in oven for 20 minutes or until golden
To make the caramel 
Place the butter into a small pot and melt 
Add in the sugar and maple syrup and bring to a slow boil 
Add in cream and gently stir on and off for around 10-15 mins until it thickens. 
Add in the vanilla and salt
Leave to cool slightly 
Add in the almond butter and extra cream - your caramel should be a nice consistency not too thick or thin. 
Pour caramel over the base and place in fridge to cool. 
Chocolate 
Place the chocolate in a heatproof bowl over top of a hot saucepan of water. Stir until melted and then drizzle over your caramel.