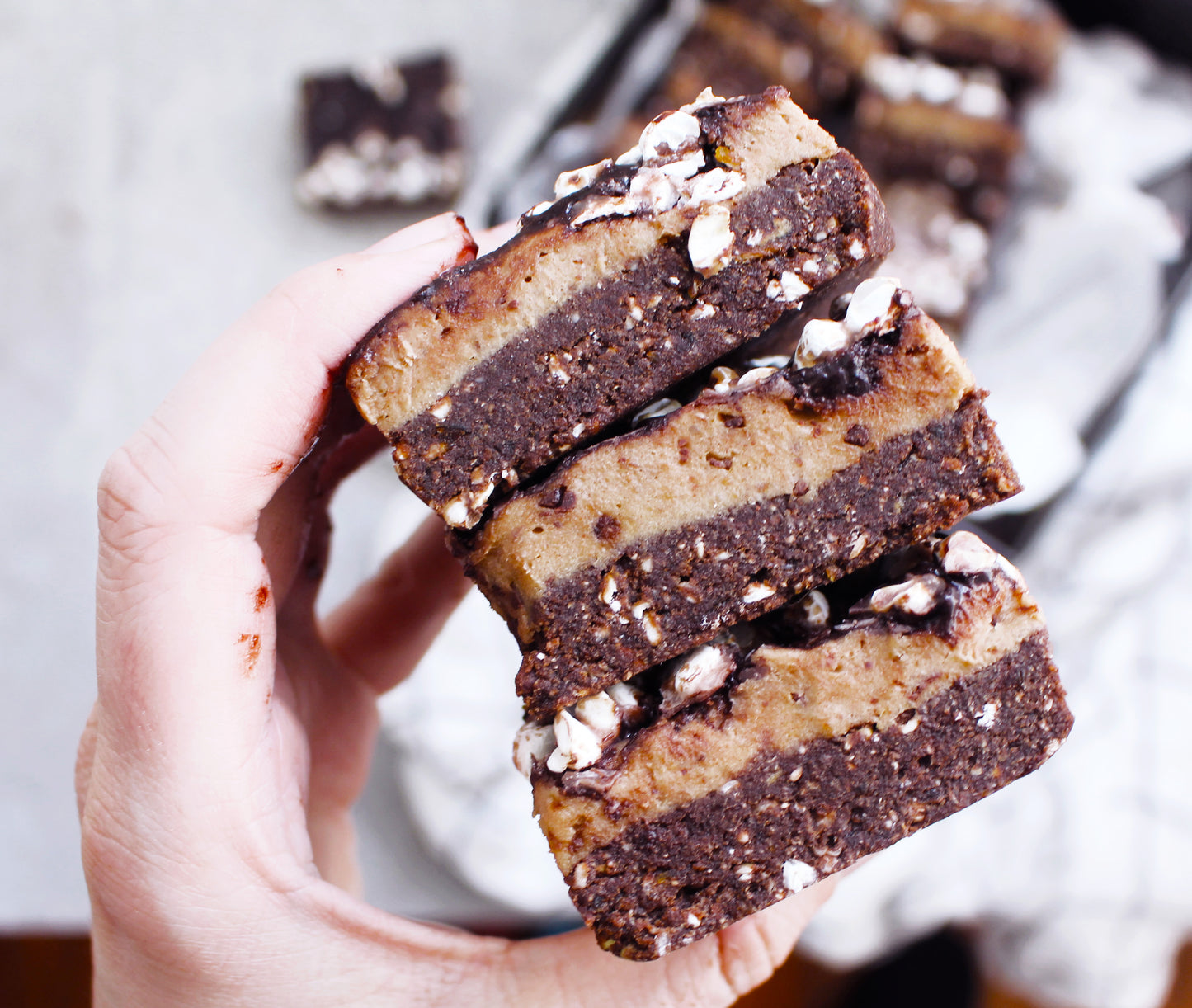 This delicious slice has protein powder in it but you can easily sub it out and add in some almond meal, almond butter or I love using my glowing skin health blend mix in my raw baking! It is also high in Vitamin C and omega fatty acids!
This slice is refined sugar free and full of healthy fats! A great mid avo snack to keep you going that still tastes amazing! 
Raw Caramel Protein Slice Recipe
Base
½ cup buckwheat groats
½ cup cashews
1 cup coconut flour
¼ cup cocoa powder
1 cup dates
¼ cup melted coconut oil
2 tbsp water if needed
Caramel
2 tbsp cashew butter or almond butter 
½ cup dates
¼ cup coconut oil
1 tsp vanilla
Pinch salt
¼ cup vanilla protein powder (I use Nuzest) or extra almond butter or almond meal or you can use our glowing skin vanilla health blend 
½ cup coconut cream
Topping
150g Dark chocolate - I use Solomons Gold Coconut sap refined sugar free chocolate but any dark chocolate will work such as whittlers, Lindt etc 
¼ cup coconut cream
¼ cup puffed buckwheat or any nuts 
Instructions
1.Soak both lots of dates in 2 bowls of hot water for 5 minutes then drain
Place the base ingredients into your food processor and add one bowl of drained dates and process until it resembles a fine crumb.

Press the mixture into a lined 20x20 baking tin and place in freezer.

Drain the dates for the caramel. Add them to the food processor along with the coconut oil, cashew butter, vanilla, salt, coconut cream and protein powder

Blitz until combined. Pour over the base mix and again return to freezer.

Melt the chocolate in a heatproof bowl over top of a pot of hot water. Add in the coconut cream and mix. If it is too thick add slightly more coconut cream until it is smooth and glossy in texture.

Pour over the top of the caramel layer.

Sprinkle the buckwheat puffs over the top of the chocolate and return to the freezer again.

You will need to leave this in the freezer for a few hours to set.
ENJOY!