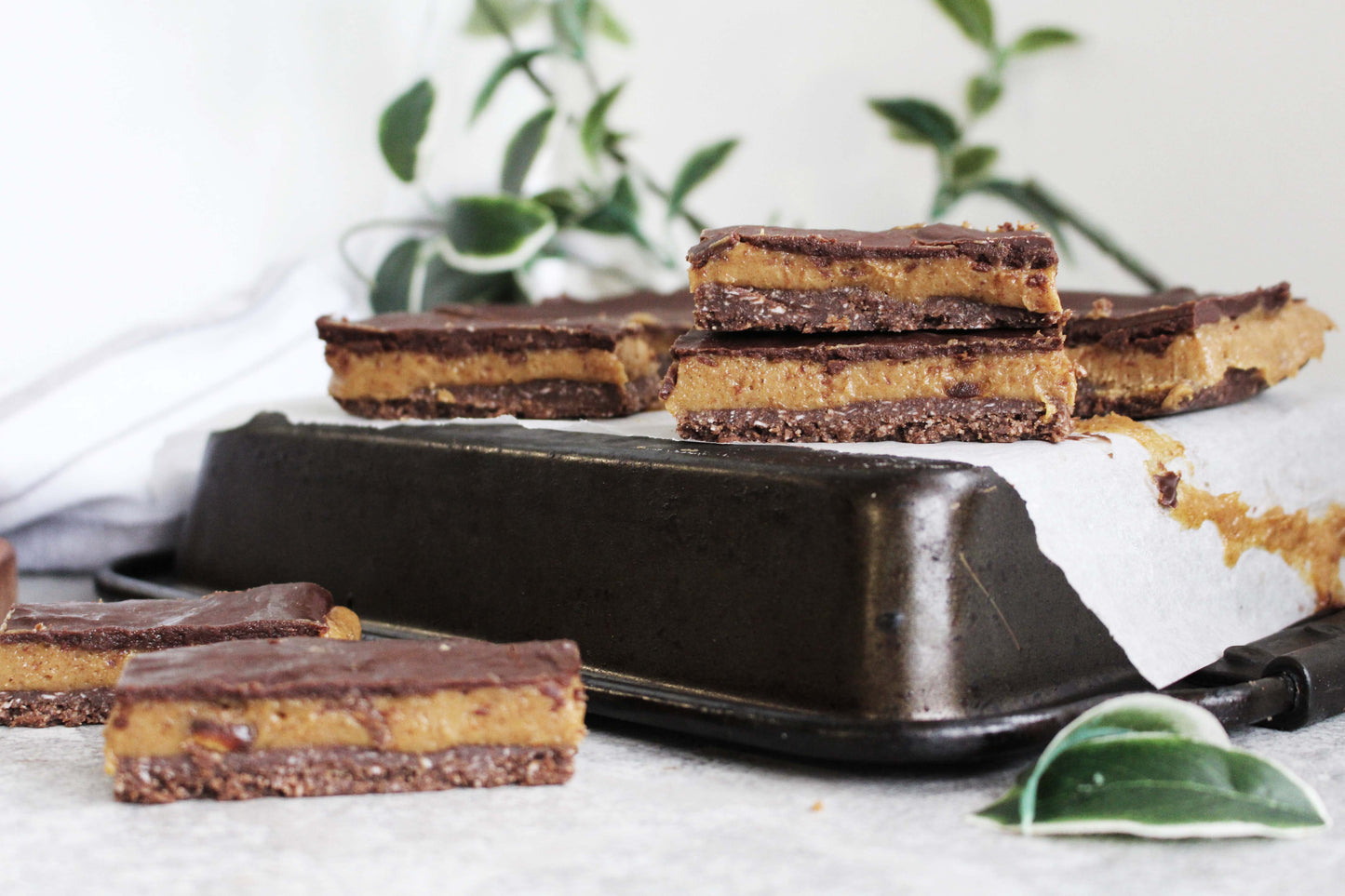 This delicious raw caramel slice is anything but heathy tasting. The caramel and chocolate will win anyone over!
High in healthy fats, protein and fibre it is a treat that your body will love too!
RECIPE
Base
½  C dessicated coconut
¼ cup carob powder or you can just use 2 more tbsp cocoa powder
¼ cup cocoa or cacao powder
1C ground almonds
¼ cup melted coconut oil
3 tbsp maple syrup
1 tsp vanilla
For the caramel:
1C dried dates
¼ cup  almond butter
⅓ cup almond milk or coconut cream
¼ cup coconut oil, melted
1t natural vanilla essence
3 tbsp pure maple syrup
¼ tsp sea salt
For the chocolate topping:
½ cup coconut oil, melted
¼ cup cocoa powder
¼ cup carob powder
¼ cup  pure maple syrup
Method
1. Line a 20cm x 20cm slice pan with baking paper.

Put dates in a bowl and cover with boiling water, leave for 10-15 minutes or until soft

Combine all base ingredients in a food processor and blitz until  the mixture is smooth, press into the tin, you might need to use your hands or the back of a spoon to spread it out evenly. Place in freezer

Drain the dates and add to the food processor or blender along with the other filling ingredients. Blitz until smooth.

Pour over the top of the base and return to the freezer.

In a small saucepan over a low heat, melt the coconut oil. Remove from the heat and whisk in the cocoa and carob powder and maple syrup

Pour chocolate mix on top of the caramel layer making sure it covers it evenly.

Return pan to freezer to set.

Store in an airtight container in the fridge or freezer.

I suggest you take the slice out of the freezer for a few mins to soften before cutting.